2007 Connoisseur Collection Showcases Fenton Art Glass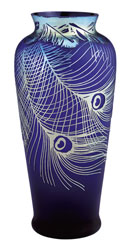 (Williamstown, WV). The 2007 Connoisseur Collection from Fenton Art Glass showcases the skills and talents of their glassworkers and artists. Included in this year's Collection is the vivid "Peacock Feathers on Favrene" Vase.

Cameo Artists Kelsey Murphy and Robert Bomkamp have perfected an advanced vignetting technique for sandcarving to achieve both dimension and depth. The vivid iridescence of Fenton's Favrene glass, made with pure silver, makes the intricate details on this vase come alive.

Item 8812 8 x 10-1/2" Peacock Feathers on Favrene Vase
limited to 750 pieces, retails for $495 U.S.

Creating spectacular colored art glass for a century, Fenton Art Glass Company represents American handcrafted glass artistry. Located in Williamstown, WV, Fenton is known for its wide range of colors, handpainting and handcrafting. For four generations, Fenton family members have remained active in the business and are proud to continue an American glassmaking tradition begun in 1905. Call 800-933-6766 for more information or visit www.fentonartglass.com.