Fenton Art Glass Presents . . . Limited Edition Blue Burmese Angel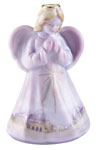 (Williamstown, WV). Designer Frances Burton's Blue Burmese Angel captures the wonder of a moonlit Bethlehem night. Pure gold in Fenton's exotic Blue Burmese glass creates the glowing pink blush during a special manufacturing process. Destined to become a family heirloom, each Angel is individually numbered and personally signed by the artist who handpainted it.

Item 5014 BN 6-1/2" Blue Burmese Limited Edition Angel retails for $79.50 U.S.

Creating spectacular colored art glass for a century, Fenton Art Glass Company represents American handcrafted glass artistry. Located in Williamstown, WV, Fenton is known for its wide range of colors, handpainting and handcrafting. For four generations, Fenton family members have remained active in the business and are proud to continue an American glassmaking tradition begun in 1905. Call 800-933-6766 for more information or visit www.fentonartglass.com.